The Ministry of Science, ICT and Future Planning (MSIP) of South Korea announced on the 15th that it will issue an administrative notice of a draft proposal on transmit power raise for 900 MHz (917~923.5 MHz), the most used band globally, from the current 10 mW to max 200 mW, to promote new IoT business and services.
So far, the band has been used primarily for shot-range services like RFID, Z-wave (for home IoT), because of limited transmit power despite its excellent signal performance. The adjustment of transmit power will pave the way for deployment of nationwide IoT-dedicated networks like Low Power Wide Area (LPWA) network. IoT-dedicated networks will:
Bring down installation costs by nearly 70% because the number of base stations needed to serve an area will drop from the current 100 with 10 mW of transmit power to 27.
IoT features like metering (automatic metering of utilities, including water, electricity and gas), location tracking (for missing children and pets, logistics), monitoring and control (parking, street lights, waste management, etc.) can run for more than 5 years without battery (in sensor/terminal) replacement.
Sungbae Jun, Head of Spectrum Policy at MSIP said, "The raise of transmit power in IoT spectrum is speculated to contribute to development and promotion of new IoT businesses valued about KRW 22.9 trillion (USD 19.6 billion) by 2020." He added MSIP will continue to make efforts to discover additional spectrum for IoT service use (planning to provide more than 100 MHz in total).
---
■ IoT-dedicated network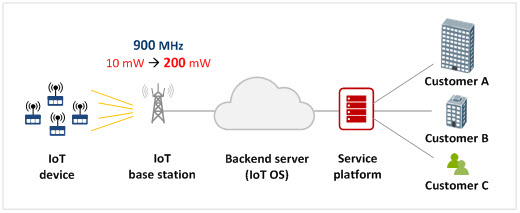 ■ IoT technology characteristics
■ Most known LPWA technologies
The two most known LPWA technologies are LoRA and SigFox.
LoRa : IoT specifications established by LoRa Alliance consisting of 170 members including Semtech, Cisco, IBM, SK Telecom, and more

SigFox : IoT specifications established by ETSI (led by SigFox, a French company)