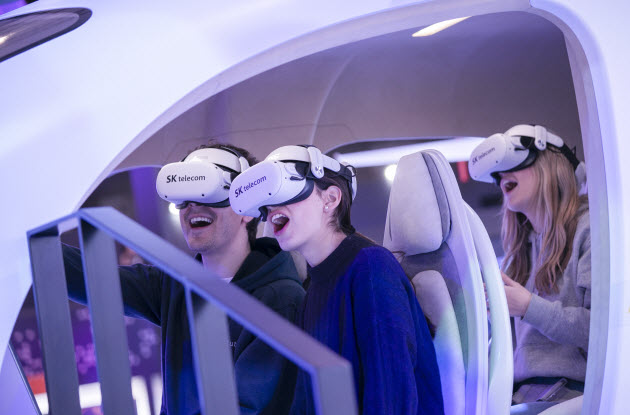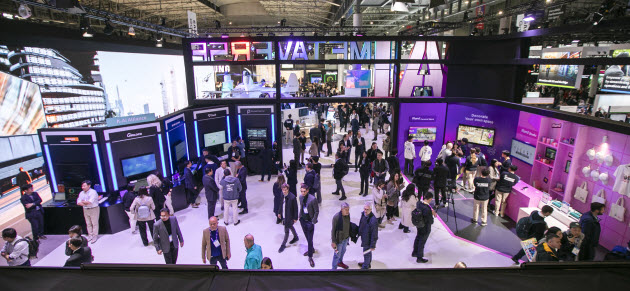 SK Telecom (NYSE: SKM, hereinafter referred to as "SKT") today announced that it will showcase innovative ICT such as AI, urban air mobility (UAM) and 6G at MWC Barcelona 2023 opening tomorrow at Fira Gran Via located in Barcelona, Spain.
■ AI technologies & services
At this year's MWC Barcelona, SKT will display ten different AI technologies and services, including a large AI model named 'A.'; AI semiconductor 'SAPEON'; 'Vision AI' for robot, security, media and medical services; location AI solution 'LITMUS'; and medical AI service 'X Caliber.'
The company will demonstrate 'A.' applied with long-term memory technology that remembers old information to make natural conversations, and multi-modal technology that can understand complex information such as text, photos and voice.
It will also introduce innovative technologies developed through collaboration with its AI partners, including Konan Technology, Moloco, Bespin Global, Swit and Phantom AI.
■ Urban Air Mobility
By combining a full-scale UAM aircraft built based on the eVTOL aircraft of Joby Aviation, SKT's exclusive partner in the UAM business, and a virtual experience simulator, the company takes visitors on an immersive virtual flight over the skies of Seoul and Busan.
With mobility service platform 'TMAP', visitors will be able to experience planning their overall trip that involves multiple modes of transportation, charging of aircraft batteries, as well as infotainment services during flights.
They can also pilot the UAM aircraft simulator and use SKT's self-developed 4D trajectory-based flight control platform to estimate trajectory and prevent collision via route deviation alert.
The company will also display a technology that uses drones to verify the quality of aerial networks, which is essential for stable operation of UAM services, along with its vision of expanding UAM into the logistics business.
■ Advanced technologies in 5G & 6G, metaverse and quantum cryptography
SKT will showcase diverse next-generation mobile network technologies such as transparent antenna technology that can improve frequency performance in 5G as well as 6G candidate bands; intelligent network that provides improved performance through the application of AI and cloud technologies; and infrastructure applied with energy-saving technology.
The company also invites visitors to experience 'ifland,' a metaverse service launched in the global market. Visitors can create their own space in the virtual world, invite other users, and have fun designing clothes for their avatars. The economic system soon to be applied to ifland will also be introduced.
Moreover, SKT will show how its quantum cryptography technologies can help strengthen security in an era where the real and virtual worlds are closely connected and AI technologies are widely adopted.
■ Innovations for ESG at 4YFN
At 4YFN, the startup event of MWC Barcelona held in Hall 8.1 of Fira Gran Via, SKT will introduce innovative ideas and technologies of 14 social startups it is partnering with as well as its own ESG projects under the slogan of "Think Tomorrow, Do ESG."
The company will display AI services designed to help the socially weak such as 'AI Care,' an AI-based care service for seniors living alone, 'G-EYE PLUS with VLAM,' a navigation service for people with visual impairments (SKT & LBStech & SAPEON), 'Sullivan Plus,' an AI-based visual-aid service (SKT & Tuat), and 'Goyohan M,' an ICT-based mobility platform for deaf cab drivers (SKT & Coactus).
SKT will also introduce various services of innovative startups that have received investment from the ESG fund operated by SKT or have been selected as excellent companies in ESG. For instance, a braille publishing platform for the visually impaired by Sensee, AI-based Korean language education app by H2K, and a solution that utilizes AI data to reduce food waste by Nuvi Lab will be on display to show how the companies are using AI technologies to make a better world.
"We have designed an exhibition that allows visitors to experience a new world brought by AI innovations," said Park Kyu-hyun, Vice President and Head of Digital Communication at SKT. "We expect MWC Barcelona 2023 to serve as an opportunity to promote our global leading technologies and services to the world."