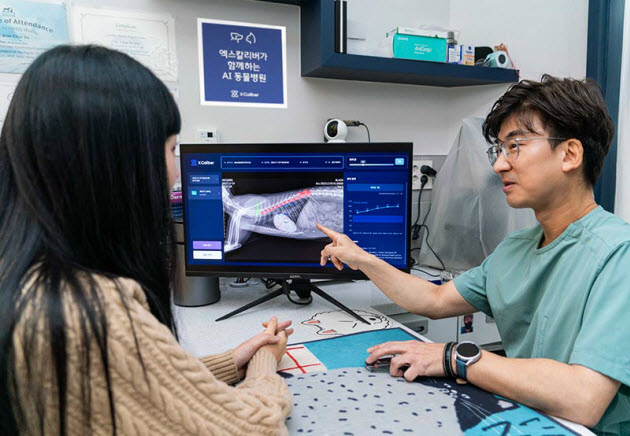 SKT enters into strategic partnerships with companies in Australia, Singapore and Japan to advance into the overseas markets with X Caliber.
X Caliber expands its service coverage to cats to further expand its market presence.
Already used by 450 veterinary hospitals in Korea, X Caliber plans to continue expanding its reach by venturing into the Americas and Europe.
SK Telecom (NYSE:SKM, "SKT") announced strategic partnerships with companies in Australia, Singapore and Japan to promote overseas distribution of 'X Caliber', SKT's AI-based veterinary X-ray image diagnosis assistance service.
The company also said that the diagnostic scope of X Caliber has been expanded to cats, meaning that the service now covers both dogs and cats.
Launched in September 2022 as part of SKT's efforts to realize AI Transformation (AIX) of industries, X Caliber is being actively utilized in 450 veterinary hospitals in Korea.
■ SKT enters into the global market with X Caliber
On November 17, 2023, SKT entered a strategic partnership with ATX Medical Solutions, a leading provider of medical devices in Australia. ATX Medical Solutions specializes in the distribution of medical imaging devices and operates its own cloud software for veterinary services.
In Australia, 69% of households had pets as of 2022, and there is a large market for cat-related products and services in Australia, where there are around 4 million pet cats, which is about twice that of Korea. In collaboration with ATX, SKT plans to actively promote the use of X Caliber in veterinary clinics in Australia.
On September 21, 2023, SKT signed a strategic partnership with Smitech. Smitech is a leading medical equipment distributor in Singapore, providing various veterinary medical devices and solutions to animal clinics and hospitals in Singapore.
In Singapore, there has been a dramatic increase in pet population since the outbreak of COVID-19, and the growing trend of pet humanization is contributing to an expanded awareness of health and welfare of pets. Through partnership with Smitech, SKT plans to promote cooperation with major veterinary clinics and hospitals in Singapore in the area of animal medical AI technology and boost the distribution of X Caliber.
Moreover, on September 20, 2023, SKT strategically partnered with Japan's largest pet insurance group, Anicom Holdings, to expand X Caliber into the Japanese market. The company plans to leverage its AI technology along with Anicom Holdings' pet life cycle data (puppyhood, adulthood, and senior years) to collaborate on AI healthcare research and develop medical services for pets. Additionally, SKT has signed a business cooperation agreement with Anicom Pafe, a subsidiary of Anicom Holdings specializing in electronic chart solutions, to promote the distribution of X Caliber to veterinary hospitals in Japan.
Japan's veterinary healthcare market has already exceeded KRW 3 trillion as of 2021, which is twice larger than that of Korea. The number of pets (dogs and cats) and the number of veterinary hospitals in Japan are 16 million and 12,000, respectively. Anicom Holdings has more than 6,000 veterinary clinics as business partners in Japan, and SKT plans to leverage Anicom's strong business network and distribution competitiveness to increase X Caliber's presence in the Japanese market.
■ X Caliber expands its diagnostic scope to cats
From November 19, 2023, X Caliber expanded its coverage to cats. By analyzing X-ray images of cats, it offers diagnosis for five chest conditions and seven abdominal conditions within 15 seconds. For dogs, the service currently covers seven musculoskeletal conditions, ten chest conditions and 16 abdominal conditions. It also automatically measures the heart size for both dogs and cats.
X Caliber is highly utilized for measuring the heart size. It garnered positive response from veterinarians by offering highly accurate measurements within a short period of time. SKT expects the feature to be actively used for cats as well going forward.
"By expanding X Caliber's service coverage to cats, we expect to further strengthen our presence in the Korean market as we can now target 98% percent of the nation's pet population," said Ha Min-yong, Chief Development Officer of SKT. "Following our partnerships in Japan, Singapore and Australia, we will accelerate our expansion into the global veterinary market, including the Americas and Europe."