KT and HFR collaborate to expand the Private 5G Business Area.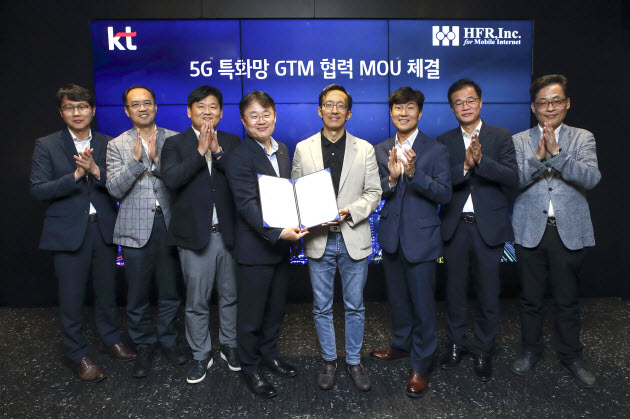 KT (www.kt.com) announced on the 18th that it will cooperate with HFR, a telecommunications equipment manufacturing company, to discover the effectiveness of private 5G deployment and develop technology to expand the private 5G business area.
The two companies signed a memorandum of understanding (MOU) with these contents at the KT Songpa Building in Songpa-gu, Seoul.
KT has extensive experience in building and operating private 5G networks, and HFR is a mid-sized telecommunications equipment company that has developed end-to-end solutions for building private 5G networks.
The two companies will jointly create a program to deploy private 5G networks in small and medium-sized enterprises, local governments, and public enterprises to demonstrate the effectiveness of introducing digital transformation (DX) solutions in advance.
By doing so, the companies expect to provide customers with a reliable and competitive way to introduce private 5G and transform the private 5G ecosystem toward domestic equipment manufacturers.
It is also expected to provide fast DX launch support for customers who have deployed or are considering deploying private 5G networks.
"We will contribute to the development of industry and society by providing economic solutions suitable for each situation to small and medium-sized companies, and Korean-style solutions that can realize security and smart society to public enterprises, including local governments," said Jeong Jung-kwan, head of the Private 5G Business Group at HFR.
"As the nascent market for private 5G networks is forming, the expansion and activation of the ecosystem will directly benefit customers," said Min Hye-byung, Head of KT Enterprise Service DX. "We will continue to develop competitive private 5G services through our cooperation."