SK Telecom to team up with Israel-based Inuitive for development of 3D AR/VR solution
---
Signed MoU with Inuitive, a Israeli sensor image processor developer
'T-Real', SK Telecom's AR/VR platform, to be combined with Inuitive's 3D sensor technology for new 3D virtual content solution
---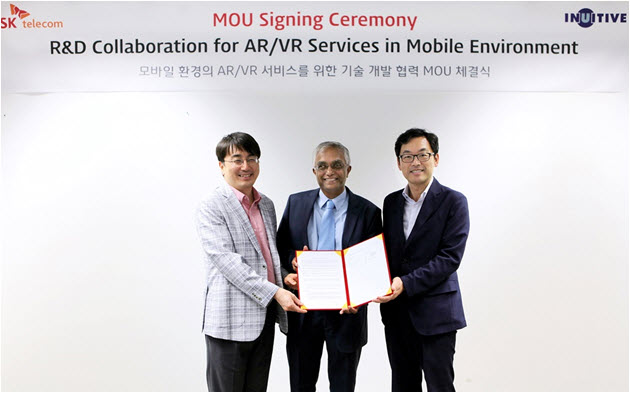 SK Telecom signed an MoU with Inuitive, a Israel-based sensor and image processor developer (CEO Shlomo Gadot) on June 27th to develop 3D realistic Augmented Reality (AR)/Virtual Reality (VR) solutions.
SK Telecom's AR/VR platform 'T-Real' and Inuitive's 3D sensor will be combined to develop a solution that would enable devices to recognize movements, objects and space in 3D, allowing for 3D expression of virtual content.
Unlike 2D content in AR games so far, like Pokemon Go, or AR service, the new solution will be able to provide users with realistic 3D experience through 360 degree, high-quality content.
Inuitive is a global venture business with 3D sensor technology optimized for mobile environments. While conventional sensors require an additional external processor for recognition and processing of images, the company's sensor can process and recognize images using only one processor, which saves power and space.
The two companies will prioritize their resources on development of solutions for small-sized devices, like mobiles, that are used most frequently in real life.
SK Telecom has been exerting efforts to develop AR/VR technologies since 2010, releasing 'T-AR' in 2014, and 'T-Real', an upgraded AR/VR platform in 2016.
It has also made development efforts globally, presenting 'T-AR for Project Tango', an AR solution co-developed with Google, in May 2015, and signing an agreement with Leap Motion, a gesture recognition sensor and solution developer, for developing immersive multimedia service, in October 2015.
Choi Jin-sung, head of the Network IT Convergence R&D Center at SK Telecom, said "We are expecting an innovation in user experience in the near future, which enables an realistic user experience service and an activation of the AR and VR world. Through the collaboration with global IT firms, we do our utmost to provide high-level services."
Shlomo Gadot, CEO of Inuitive, noted "We are planning to develop services that are practical and useful in our everyday life by utilizing 3D sensors optimized for mobile."