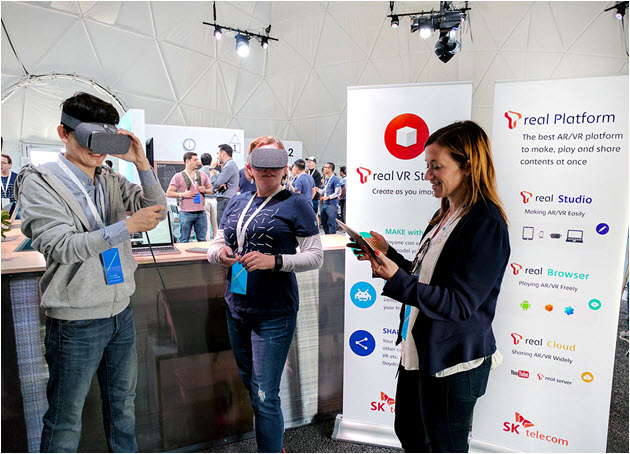 SK Telecom today announced the successful showcase of its AR·VR platform - 'T Real VR Studio' at Google I/O 2017, held in Mountain View, California from May 17 to 19.
'T Real VR Studio' is an integrated AR·VR service platform utilized in multiple VR platforms including Daydream, Google's VR platform. SK Telecom has interlocked 'T real', its AR·VR service platform, with Google Daydream to provide opportunities for all to easily create, share, and play the virtual content.
The highlighted functions of 'T Real VR Studio' include : VR content creation in a mobile environment, Voxel-based 3D model creation and editing, Multi-user content creation and, VR virtual camera playback and recording.
SK Telecom explained that the most distinctive feature of 'T Real VR Studio' is the easy accessibility to VR content creation. 'T Real VR Studio' provides voxel-based modeling functions optimized for mobile VR controllers, building a simplified content creating environment that does not require professional knowledge. The created content is uploaded to the cloud and automatically converted to specialized 3D format (obj or Unity Scene format), and later can be modified and reloaded by professional tools such as 3D Max or Unity.
As VR content creation requires high level of technical expertise, it was originally limited to professional designers and developers, and was passively consumed by users. Now, with 'T Real VR Studio,' all users including amateurs can create and share VR content in an easy and flexible manner.
In addition, 'T Real VR Studio' works together with Tango, Google's AR platform/device. VR content created in 'T Real VR Studio' can be utilized as AR content when played in Tango. It can also be extended to other VR platforms such as Gear VR, Oculus, and HTC Vive.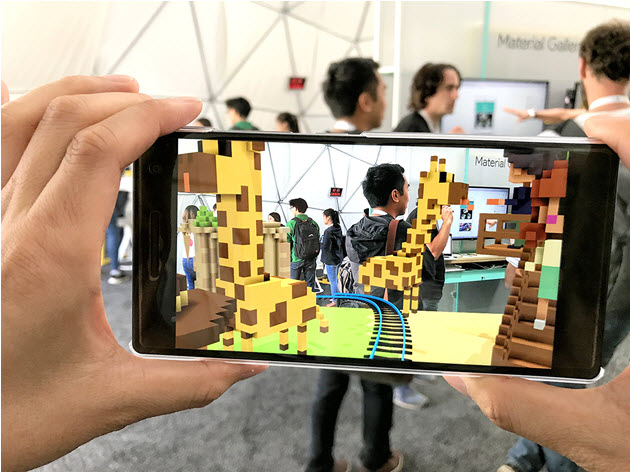 SK Telecom sees great potential of VR technology and believes that inexhaustible VR content will potentially appear in various application areas such as gaming, education, construction, and marketing with the advent of 'T Real VR Studio'. For examples, the platform may help to create a block game for children which they can play at home, or an architectural simulation program to design a new city and forecast diverse situations by arranging various buildings and facilities. Furthermore, it can even design program that helps to make better design plan by reorganizing internal and external structure of the machine parts materialized in 3D.
"To popularize VR, it is essential to enrich the VR content used in educational and industrial fields in addition to consumption-based content for gaming and entertainment', says Alex Jinsung Choi, CTO of SK Telecom. "As 'T Real VR Studio' allows concurrent multi-user access to produce and modify VR content, we at SK Telecom are expecting an innovative change in the VR environment, leading to a 5G era that enables ultra-high speed and ultra-low latency transmission of massive data", he added.
SK Telecom has been involved in AR·VR technology development since 2010. The company released an AR platform 'T-AR' in 2014, and extended to 'T Real' as total AR/VR platform in 2016. Regarding T real, the company is providing Soft Development Kit (SDK) to developers at no charge. SK Telecom is also actively cooperating with partners such as Leap Motion and Inuitive in developing manipulation technology for virtual content, such as gesture recognition and tracking based on 3D depth sensor. As part of the AR·VR projects, SK Telecom has demonstrated 'T-AR for Project Tango' in collaboration with Tango, Google's AR platform, at Google I/O 2015.