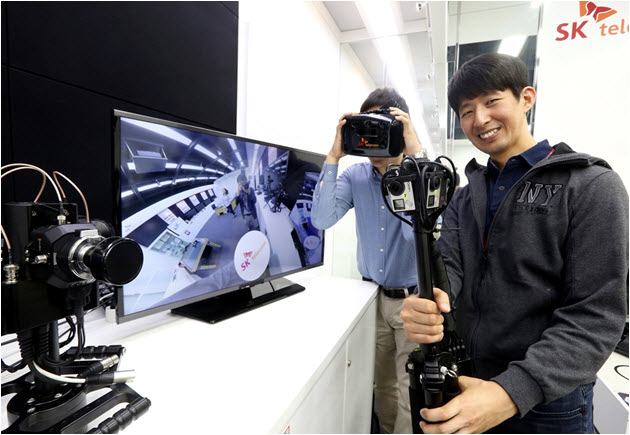 Real-time Virtual Reality (VR) streaming has seemed impossible because of its large data consumption. But now it's about to become a reality.
On the 16th, SK Telecom declared its successful demonstration of ultra-high quality 4K (Four times better than Full HD) VR live broadcasting conducted in cooperation with SK Broadband at its Bundang R&D Center.
The 'ultra-high quality VR live broadcasting' can compress all videos captured by a 360 degree camera into a single VR video, and send it to users' devices like TV and smartphone for live broadcasting.
Because it allows viewers to watch sports games in so realistic video quality in real time in any way they want, the solution is widely used in e-sports, sport broadcastings, and even in K-pop concerts, and soon will be in many other fields like national defense, medical and education as well.
In the demonstration, SK Telecom showed how the ultra low delay and high quality VR streaming solution can compress all video clips captured by six cameras into 4K UHD video in real time, allowing for live broadcasting of high quality VR on smartphones.
The company will push forward with plans to apply the solution to many VR areas for possible commercialization opportunities, and to have the solution defined as a standard in an MPEG meeting held in Chengdu, China on the 17th. The company plans to have the solution commercialized next year.
VR video has had an inevitable issue of interruption while streaming because of an enormous amount of data receiving from cameras that capture 360-degree footage. So to address this issue, either the resolution of video or the video quality in general had to be compromised for uninterrupted video streaming.
The company came up with 'differential video quality (dynamic tiling)' solution that offers 4K quality for primary viewing areas where most of viewers' attention is paid while offering Full HD standard quality for the periphery of the primary viewing areas.
It also developed a solution that tracks viewers' eye movements and adjusts the area where 4K quality video is offered accordingly, making sure viewers always watch high quality video areas only.
This solution will allow viewers to enjoy 4K videos while reducing data usage by about 65% of what is conventionally used. As a result, viewers can be served with uninterrupted streaming at drastically reduced cost.
So far, live broadcasting of VR services in the nation has mostly relied on imported equipment. SK Telecom has integrated some of technologies it had acquired (e.g. stitching, dynamic tiling and True Live Streaming (TLS)) successfully, taking the VR live broadcasting solution to the next level using local equipment.
JinHyo Park, head of Network Technology R&D Center at SK Telecom, noted "The VR live broadcasting solution will bring our customers' experiences in VR, recognized as killer content for the coming years, one level higher."