Showcases an innovative end-to-end live streaming platform for 360 VR to provide customers with a truly immersive experience
360 VR content produced by the platform boasts better image quality and dramatically reduced latency
With the application of 3D audio, the platform provides different sound volumes based on the movement of user's head
The company plans to open the platform's API to build a new media ecosystem
---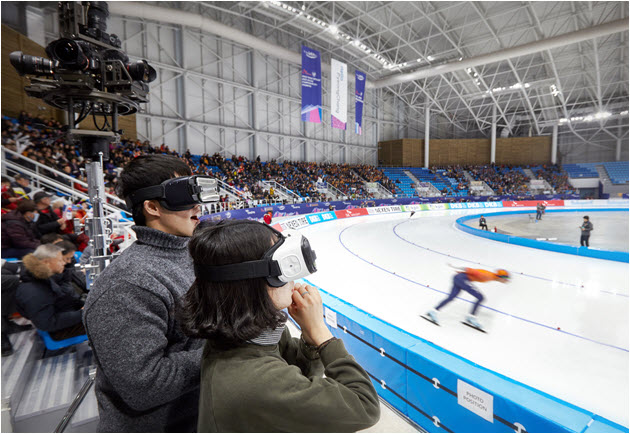 SK Telecom announced on Febrary 20, that it will unveil its 360-degree live broadcast platform named '360 Adaptive VR Live Streaming Platform (hereinafter referred to as "360 VR Live")' at the Mobile World Congress (MWC) 2017 to be held in Barcelona, Spain, from February 27 to March 2.
360 VR Live is an innovative end-to-end broadcast system that enables users to produce and livestream ultra-high-definition (UHD) 360-degree virtual reality (VR) video with low latency using a 360-degree camera.
The platform produces UHD VR content through its differentiated stitching technology. When it comes to creating 360-degree visuals, it is important to seamlessly stitch multiple videos or images taken by the 360 camera. Based on multi-band blending algorithm, the platform stitches images in multi layers to produce a seamless 360 VR content without any distortion. In terms of __frame rate, it supports 60 __frames per second (FPS), which is translated into two times higher image quality than that of its competitors.
Moreover, 360 Live VR has significantly reduced the bandwidth required for transmitting 360 video data. Generally, live streaming of 360 VR video requires up to six times greater bandwidth than traditional broadcasting. However with the platform, the size of the 360 VR video file is reduced by 35 percent, while not compromising the image quality thanks to dynamic tiling.
In addition, applied with 'T Live Streaming*,' an innovative real-time streaming technology developed by SK Telecom, 360 VR Live creates a better environment for live broadcasting of 360-degree VR video by dramatically reducing latency from over 20 seconds to less than five seconds.
*SK Telecom developed T Live Streaming in May 2016 by customizing 'MPEG Media Transport (MMT),' a standard developed by the Moving Picture Expert Group (MPEG)*, to the mobile network environment.
360 VR Live creates a truly immersive experience by providing realistic 3D audio: Based on binaural rendering technology, 3D audio recognizes, in real time, the user's accurate location including the direction of his/her eyes and provides sounds consistent with the user's location.
For instance, while watching a live travelling content, users will feel as if they themselves have teleported to a distant and exotic location not only because of what they see but also because of what they hear. The volume of sounds – e.g. background noise, voices, etc. – changes according to what the user is looking at: When the user looks at the tour guide, the voice of the guide will be heard loud and clear. Then, when he turns his head to the right to enjoy the scenery, the voice will be heard louder in his left ear than right ear. When the user looks back, the voice will be smaller for both ears.
SK Telecom plans to commercialize 360 VR Live initially in the enterprise market for broadcasting companies and social networking sites. The company will also open its application programming interface (API) to build a new media ecosystem. With the API, individuals and small content developers will be able to create and offer 360 VR Live services.
"Immersive live VR broadcasting will become widespread in the 5G era. SK Telecom will focus on building a new media ecosystem by joining hands with diverse partners," said Park Jin-hyo, Senior Vice President and Head of Network Technology R&D Center of SK Telecom.